Search engine optimization (SEO) is ever-changing. Right when you think you have mastered the art of SEO, the algorithm changes, or a new concept is introduced that may be vital to your law firm's online success. As a result, no matter what level of SEO experience you have, it is normal to have a few questions occasionally.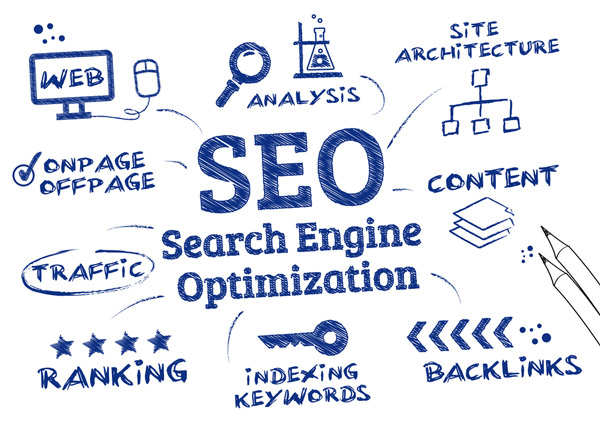 Keep reading to see answers to the top 10 most common questions on lawyer SEO.
1. Why do lawyers need SEO?
Lawyers are highly competitive by nature. But no matter how skilled they are in their career or how many cases they've won, lawyer SEO is the only way for an attorney to win the search war. More than 2.4 million searches occur on search engines like Google every minute. Without search engine optimization for lawyers, there is no guarantee that your law firm's website will be displayed to online prospects searching for the legal services you can provide.
2. How does legal SEO work?
Legal SEO is the process of improving your law firm's website to increase its online visibility. While it may seem straightforward, many factors contribute to search engine optimization. There are four major types of SEO in the legal industry that your law firm should consider focusing on.
Local SEO refers to a series of online optimization tasks that aim to increase brand awareness, improve conversions, and attract more local prospects to your law firm's physical locations.
Off-Page SEO refers to the tactics performed on websites other than your own to improve your online reputation and visibility.
On-Page SEO refers to various techniques performed on your web pages, such as content creation and optimizing title tags, that can improve your search engine ranking.
Technical SEO refers to a series of tactics that enables search engines to quickly index and crawl your website.
While most of these strategies are performed on your law firm's website, with the exception of off-page SEO, that doesn't mean you should neglect your off-page efforts.
3. Is lawyer SEO worth it?
Layer SEO is worth all the time and effort it takes to help your law firm reach its online objectives. No magic bullet can catapult your law firm's website to the top of search engines. However, SEO is the most effective way to improve your website's visibility, so you can get more customers to call your law firm or walk-in for a visit.
What amount would you pay to experience the feeling of defeating a competing law office? Lawyer SEO is a cost-effective option that can lead your law firm to victory without the hefty price tag. When you see it that way, we're sure you will agree that it will be worth every penny.
4. How much do law firms spend on local SEO?
When it comes to the cost of SEO, it's safe to say you generally get what you pay for. Some prices may seem too good to be true, and they typically are.
The cost of law firm SEO for each law firm can vary, and the price you end up paying will depend on several factors. Is your law firm large or small? Does it have a physical address? Is there more than one office? If you have a brick-and-mortar location and would like to attract more local prospects, it can cost around $1,750 – $2,500 a month for a small law firm in a smaller city. However, if your law firm is in a competitive market, such as personal injury in Houston, TX, it can cost anywhere from $5,000 – $10,000 per month.
Another common variable that can cause legal SEO costs to rise or fall is the type of services your law firm requires. Is a robust link-building strategy at the top of your list? If so, that could mean producing double the amount of content, and more content can indicate a higher price tag.
5. What happens when you stop lawyer SEO?
Once you start seeing progress in search engines, discontinuing your SEO efforts can negatively affect your visibility. Google's web crawlers will scan your web pages every few weeks, and they will also be looking at your competitors to see who is worthy of higher rankings. Inactivity is the easiest way to fall off the first page, and this is why lawyer SEO is a continuous process that should not end once you've reached your desired level of online visibility.
If it does, you can expect to lose the number one spot. Once it's gone, it can take days, weeks, or even months to get back to where you once were.
6. What are lawyer SEO limitations?
Although lawyer SEO has flexibility, it also comes with a few limitations. One of the major limitations of SEO is that the algorithm is constantly changing. One day you can be at the top of search results, and once the new algorithm updates have taken effect, you may experience a dramatic plummet.
Another common legal SEO limitation is the competition. Your law firm can be doing everything right, but a competing law firm may continuously outperform you in search engines. It can be discouraging, but it is completely normal in the world of SEO.
7. What are the pros and cons of lawyer SEO?
Once you've passed the beginning stages, you will realize that, like everything, lawyer SEO has its benefits and its disadvantages. Below is a list of benefits and disadvantages you can expect to take place as your legal SEO campaigns continue to unfold.
Pros
It's cost-effective
It provides a competitive advantage
It builds online authority
High click-through rates
Cons
It takes time to see results
It requires technical knowledge
It has a time-consuming process
Results are not guaranteed
8. Which type of keywords should lawyers start using for search engine optimization?
The best way to determine which keywords your law firm should be focusing on in your SEO strategy is to perform solid keyword research. A keyword refers to a word or a group of words, often called search queries, that describe the content on each web page to search engines and make you discoverable to the online users searching for them.
Below is an example of how a keyword report will look. Each law firm should conduct its own keyword research to identify the best keywords in its area of specialization, target its preferred location, and then fine-tune its strategy accordingly.
Keywords (Terms or Queries)
Keyword Volume
Keyword Difficulty
Lawyers near me
180,000
35
Attorneys near me
66,100
34
Law firms near me
33,300
44
Law offices near me
25,500
40
Good lawyers near me 
12,000
44
Best lawyer
10,100
37
Best law firms 
3,700
43
Best lawyers near me 
2,700
44
The key to gaining visibility in search engines is finding keywords with a high search volume and low keyword difficulty. Since the scores provided are an indication of the level of online competition, keywords with a difficulty score under 40 are usually easier to rank for.
As you filter through your keyword research, don't forget to consider search intent when making keyword decisions and when determining the type of content your law firm will publish.
9. What are the main benefits of lawyer SEO?
If your law firm has properly implemented SEO, it will begin to see the many benefits that come along with it. Below are some of the most common reasons law firms often rely on legal SEO to keep their law firm at the top of search results.
First-Page Rankings
One of the main reasons attorneys are attracted to lawyer SEO is the high placement in search engines it can produce. When your law firm does a good job satisfying Google's algorithm, it will reward you with higher placement in search engines. Since 75% of online users never scroll past the first page in search results, your website will be in a position to get as many eyes on it as possible.
A Robust Online Reputation
In the eyes of the online consumer, there can be no us if there is no trust. That's why building your online reputation is such a significant part of the legal SEO process. If a user has to choose between your law firm or a competitor, some of the factors they may consider to make the ultimate decision are:
Review rating
Level of visibility
Website design
Consistent posting
Location
Gaining the trust of online consumers is one of the most powerful ways to win over search engines and the new prospects it can refer to your law firm.
A Better Return on Your Investment
Another way attorneys can benefit from legal SEO is the return on investment it can produce for your law firm. SEO and content marketing are known to produce the highest return on marketing spend.
Not only is SEO an affordable strategy to implement, but its low cost and high return make it one of the most profitable ways for attorneys to promote their practice online.
10. How can I develop a legal SEO strategy?
Developing a legal SEO strategy can be simple, once you've determined your law firm's core goals and objectives. If you're interested in ramping up your lead generation efforts, it's time to increase the amount of content you publish.
Another essential element that should be on your list is boosting your online reputation. With a great online image and a secure, yet intuitive law firm website design on your side, your law firm can conquer the search ecosystem.
Local SEO
When it comes to optimizing for local search, having a Google My Business (GMB) profile is essential. This is partly due to the fact that lacking a GMB profile means your law firm will not show up in Google Maps, nor will it appear in Google's Local 3-Pack.
Off-Page SEO
Add Your Business to Directories
Optimizing legal directories and listings is a great way to boost your marketing efforts. We've listed some of the most popular listings and directories for law firms below.
Develop a Solid Backlink Strategy
Backlinks should be at the center of your off-page SEO strategy. Backlinks are links placed onto your website with a different domain, and these links then refer traffic to your website based on relevancy. The number of links per web page can positively impact your rankings, but the quality of your backlinks should be prioritized over the quantity.
On-Page SEO
Content is king. So your legal SEO strategy should include a great deal of long-form content. This type of content can range from 1,000 to 7,500 words. Google prefers long-form content because it is keyword rich and usually contains more backlinks than shorter content pieces.
Technical SEO
Adding schema markup and optimizing for Core Web Vitals are some of several best practices you can apply to improve your law firm's technical SEO.
An Overview of Lawyer SEO
When you are confident in your knowledge of lawyer SEO, it shows. Your website is more visible and easily accessible, but it is also faster and designed to provide a seamless online experience to all of your potential new prospects.
Now that your most burning questions have been answered and you have a better understanding of lawyer SEO, you can use this information to make your law firm more attractive, authoritative, and profitable than ever before.