The deadly crash of a Boeing B-171 during a 1935 test flight gave birth to the use of checklists by pilots, flight attendants, and ground crews. The crash occurred when the aircraft stalled shortly after takeoff. After the crash, an investigation revealed that the pilot failed to release an elevator lock before takeoff making the plane unresponsive to pitch2 control. To prevent future failures, it was suggested that B-17 pilots use a pre-flight checklist to assure that all systems were operational before takeoff.  Checklists have since spread beyond aviation to construction, education, healthcare, and manufacturing. This article provides tips and resources for lawyers who want to use legal checklists to avoid problems.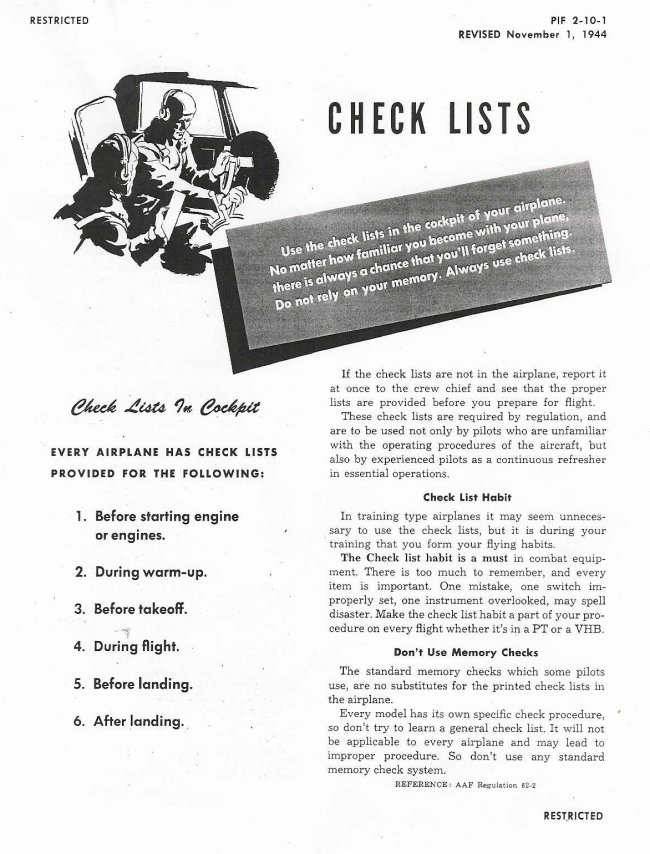 Purpose. Checklists compensate for cognitive limits on human memory and attention span. They help assure that all things are considered and completed.
Using. Checklists usually contain a concise list of important items, names, or tasks. They can be used for comparison, verification, and checking for completion. They apply to all areas of law practice including contracts, corporate, family, and litigation matters. Following are some practical applications for using checklists:
Name List

– track names for litigation, marketing, networking purposes

Responsibility List

– delegate tasks to lawyers and support staff

To Do List

– enumerate tasks needed to complete a project

Topical List

– identify matters to cover in contracts and other legal documents
Creating. Checklists can be handwritten on paper or by using a computer, smartphone, or other digital devices. Digital checklists can be created with word processing, spreadsheet, or calendaring programs. They can also be created with popular apps like Apple Reminders, Evernote, Google Keep, Microsoft To-Do, and Wunderlist.
Columns. Two columns are essential for every checklist – one for checkmarks and another for descriptions.  Additional columns can be used to identify persons responsible for handling and date for completion. Put the checkoff column first so each item can be easily marked with a √ or x when completed.  Use concise descriptions for each item so they can fit onto one line.
Saving. Whether created digitally or on paper, checklists can be saved in separate matter folders or in one general folder.  Consider printing a copy of every checklist and saving them together in a 3-ring binder for quick access.
Books, Articles, and Websites. Read technical journals to learn about the history and design of checklists and how they reduce risks. Read bar journals to learn how to use checklists in law offices to enhance efficiency, improve writing, prepare for trial, and prevent failures.  Get detailed guidance from books like the Checklist Manifesto, the Organized Lawyer, Checklists for General Practitioners, and Checklists for Family Lawyers. For sample checklists, purchase a compendium of legal checklists or download free checklists from bar association websites and law sites like FindLaw and Nolo.     
Blumberg Premium Legal Pads are Perfect for Making Check Lists
You can personalize our classic yellow legal pads with your firm name stamped across the top.
View our legal pad selection here.
Conclusion. Checklists can help you to organize, manage, and prioritize. Use checklists to avoid relying solely on your memory. Checklists can help you check status, plot deadlines, and share responsibility with lawyers and support staff.  Digital checklists facilitate the process by enabling members of the firm to collaborate and stay up to date.
1 The B-17 is a military aircraft that was nicknamed the Flying Fortress and featured in a 1990 dramatic movie titled Memphis Belle.  The B-17 was produced in the same facility that made the first B-737 in 1965.
2 The pitch problem that caused a B-17 to crash in 1935 was caused by human error. The pitch problem of two B-737 Max planes that crashed in 2018 and 2019 has been attributed to faulty data transmitted from a sensor to a Maneuvering Characteristics Augmentation System known as MCAS.