Part 3 of a 3 Part Series.
Click here for part 2 in series.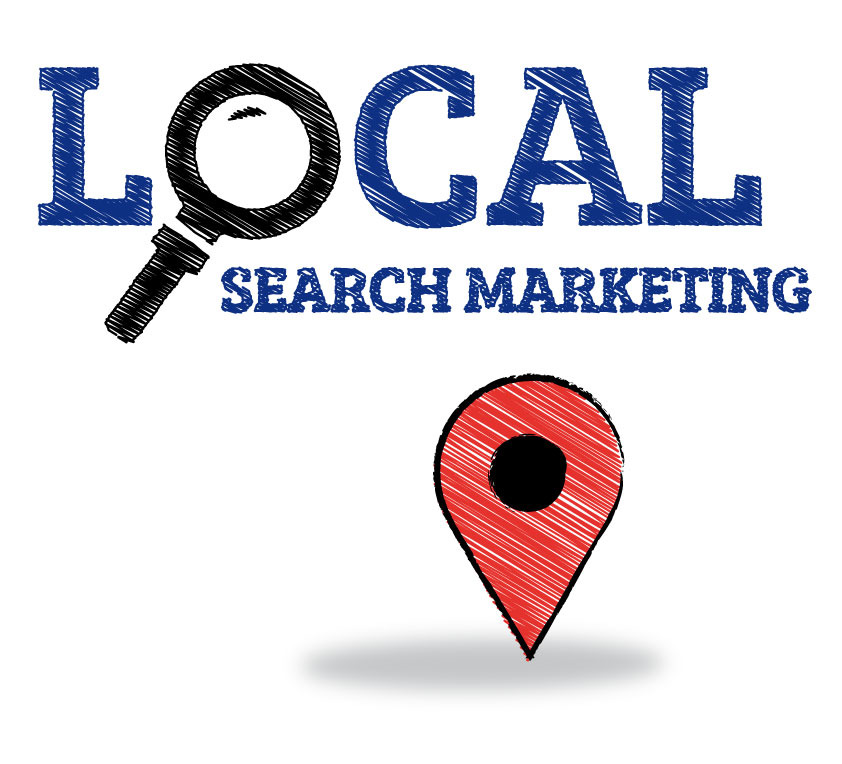 Welcome back, readers. If you're just joining us this is the third volume of How to Improve Your Law Firm's SEO. We started the series by giving the basics requirements for a successful SEO campaign and the importance of Keyword Research and implementation. We followed that up with an in-depth look at On-Page Website Optimizations. Which brings us to our last, but not least, installment: Local SEO and the Importance of Backlinks.
Local SEO
Local SEO is the process of optimizing for each of your unique service locations. This means that if your practice has multiple physical locations, you'll need to create a unique, locally optimized pages for each of the locations on your website. For firms that get this part right, their locations may even appear in the coveted 3-pack in Google local search results, driving massive amounts of traffic to your website.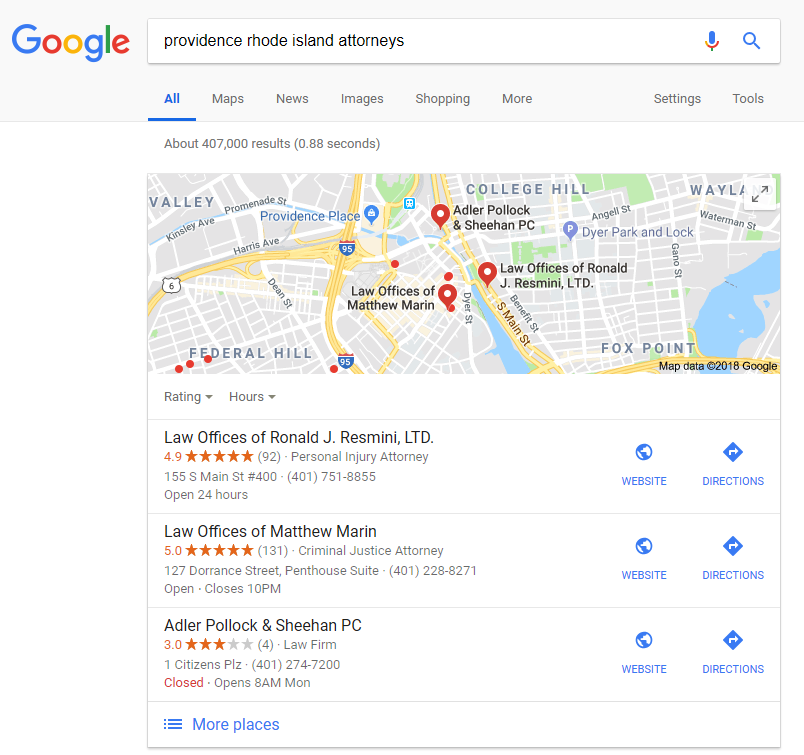 If you were to click on the "More Places" link, you'll find additional results.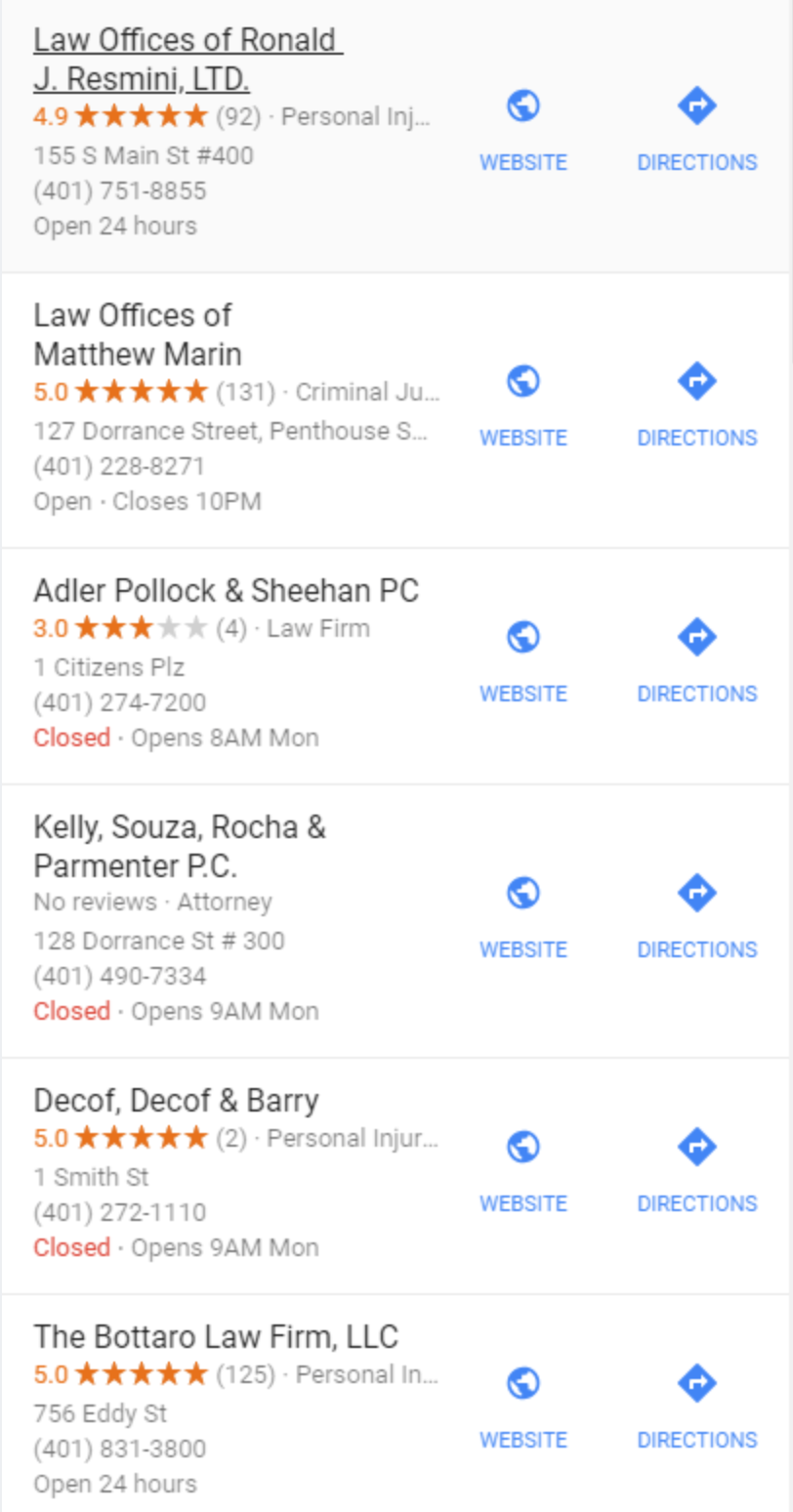 As you can see, Kelly, Souza, Rocha & Parmenter P.C. are only one spot away from the coveted 3-Pack. Unfortunately, that single spot difference means being banished to local SEO obscurity. So what needs to be done to jump that one important spot?
Local SEO factors:
NAP consistency: NAP (short for Name, Address, Phone Number) consistency is ensuring that any mention of your business online uses the same business name, physical address, and phone number. Keeping these items up to date both on your website and across the web is an important ranking factor.
Reviews: receiving positive reviews on your GoogleMyBusiness (GMB) page is crucial to prove your business' credibility, both to potential clients and to search engines.
If you have not yet set up a GMB profile, then that is the first thing on your to-do list. It is essential to have a complete and accurate GMB listing. Even if you have a strong website, not creating a profile will almost certainly lead to a loss of local traffic and exposure. You don't have to take my word for it, here is a quote from Google: "Google My Business complements your existing website by giving your business a public identity and presence with a listing on Google. The information that you provide about your business appears on Google Search and Maps."
This is where NAP consistency comes into play. If you have various, inconsistent names, addresses, and phone numbers Google will not view your information as reliable. Unreliable information means poor results.
Link-building
Getting high-quality backlinks (a link that points from one site back to yours) from reputable sources is vital to obtaining high Google search result rankings. The links back to your page let Google know that your site contains valuable expertise and information that people desire.
These backlinks will ideally come from multiple authoritative sites and be relevant to your business and target audience (a link from a cooking site will have little impact on a personal injury page), and use relevant anchor text to the page being linked to.
It is important to note that not all links are created equal. A link from a High Authority High Relevance site (ex. the American Bar Association) is significantly more valuable than a site with minimal authority, traffic, and relevance. You can find high-level authority information from sites like Moz for free.
Here are a few examples of high authority high relevance sites for law firms:
FindLaw.com: DA score of 87
Nolo.com: DA score of 84
AVVO.com: DA score of 82
Justia.com: DA score of 80
WalletHub.com: DA score of 79
BestLawyers.com: DA score of 74
HG.org: DA score of 70
LawGuru.com: DA score of 62
Lawyers.USLegal.com: DA score of 59
Lawyer.com: DA score of 52
And here are a few other examples of specific pages from high-authority moderate relevance sites (moderate relevance meaning the content on the site is partially relevant to the site being linked to. Ex: The NYT writes about legal issues but many other topics as well):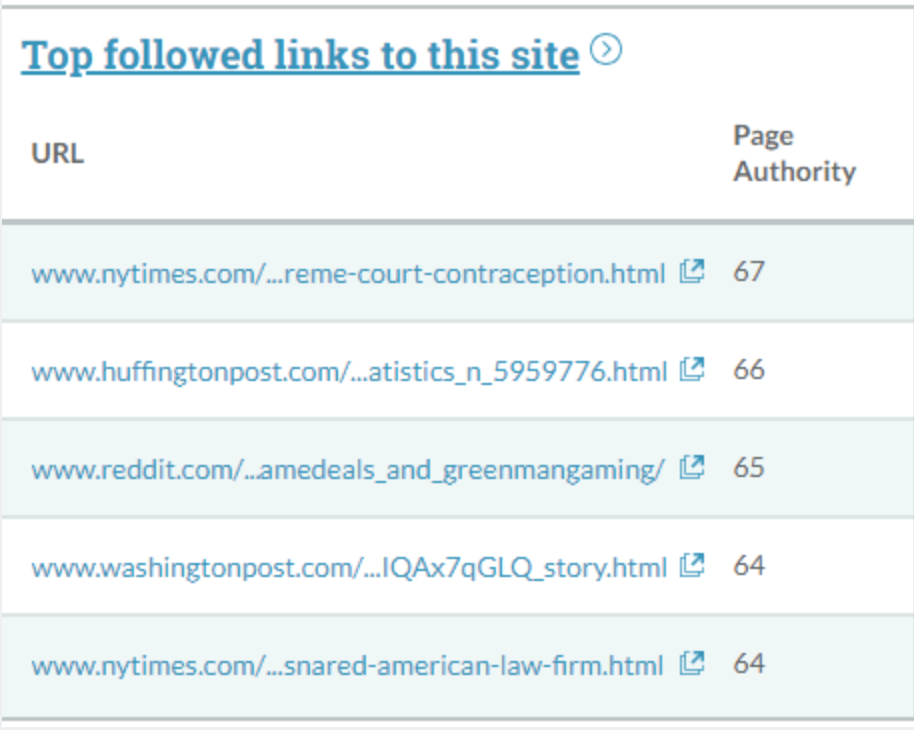 Be cautious of companies offering link building services that seem too good to be true. There are many schemes out there for link building that at best are ineffective and at worst can levy a Google penalty against your site.
Measure your results
As with most business campaigns, setting clear and achievable goals to measure success is essential. Being able to determine which pages are driving traffic, which pages are your weakest, where people are finding your site from, and which of your SEO techniques are succeeding is crucial in creating successful long-term SEO campaigns. Because if you can't show it, did it really happen?
This concludes the third and final volume on How to Improve Your Law Firm's SEO. I hope that this information has been beneficial, enjoyable, and understandable. It was a pleasure creating these articles and working with the Blumberg team, and if you'd like to go over any specifics or any of the points from these pieces feel free to contact me and we can dig into any issues you may be facing. Thank you, and welcome to the SEO family.