Part 2 of a 3 Part Series.
Click here for part 1 in series.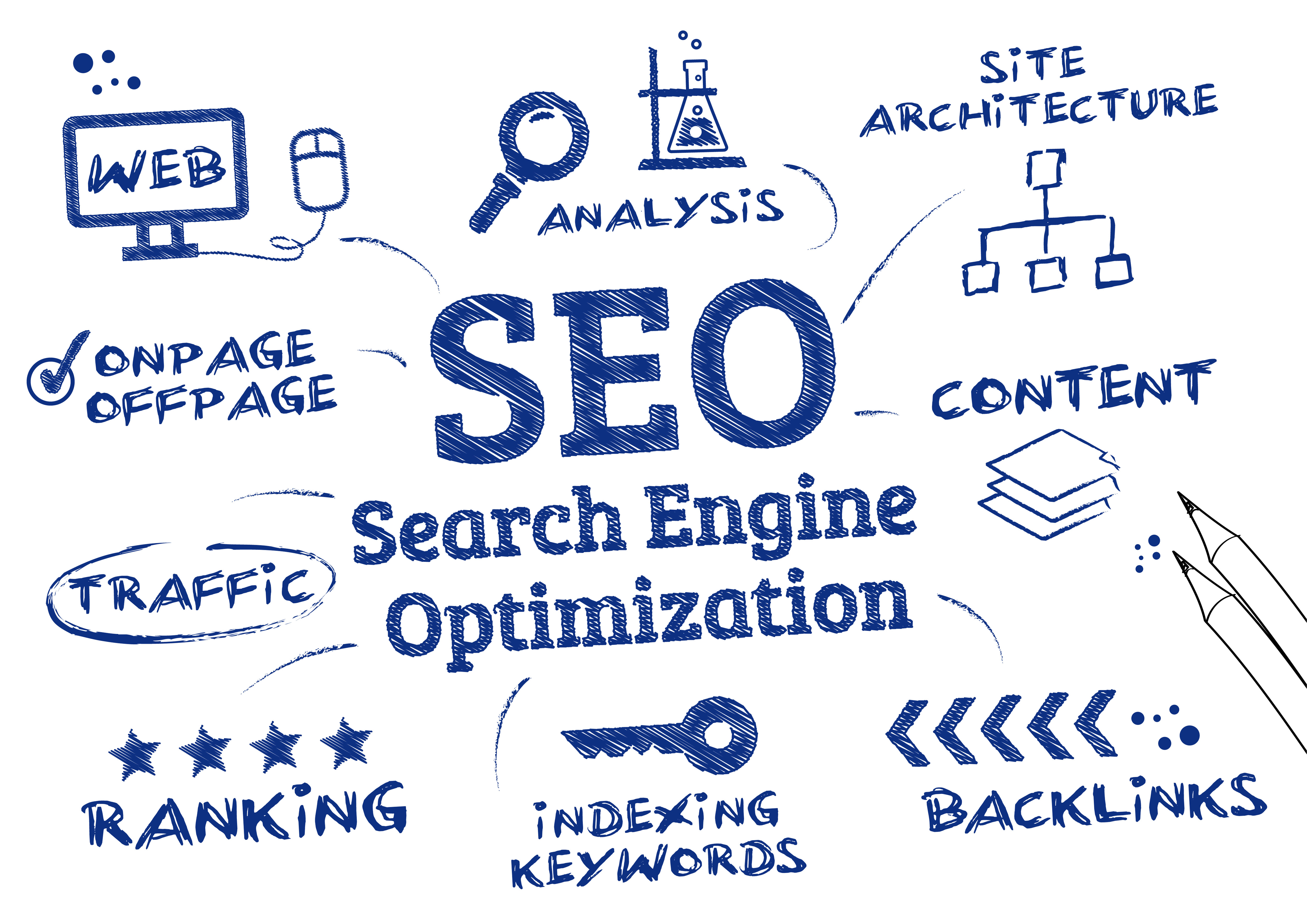 Welcome back, readers. We left off that week discussing the basic foundation for a successful SEO campaign and the importance of keyword research and implementation. Let's jump right in this week by addressing our second key element: On-Page Website Optimizations.
On-page Website Optimizations
Responsive design
First thing's first, if your website isn't already responsive (your web site recognizes the screen size of the viewer's device and automatically resize the content to fit their screen), take care of that. Google now actively penalizes sites that aren't properly optimized for mobile browsers, which makes it extremely difficult for potential clients to find your website in search results.
Site Hierarchy & Navigation
To ensure your site is search engine and user-friendly, the pages on your website need to be organized in a clear and understandable manner. Proper UX (user experience) design is essential because Google takes note of how long visitors stay on your website (dwell time) and how many pages they interact with, to judge if your content was appropriate for their search query.
The happier Google feels a user is about your content, the more likely they are to move you up in the rankings for that term so that other users can benefit from your content.
And let's be honest, nowadays if you're looking at a site and you can't find what you're looking for within the first few seconds, you're moving on. Opportunity lost.
Bottom line here is that you have a website in order to sell your services, so having what areas of law you practice easily understood and found is essential. Here is an example: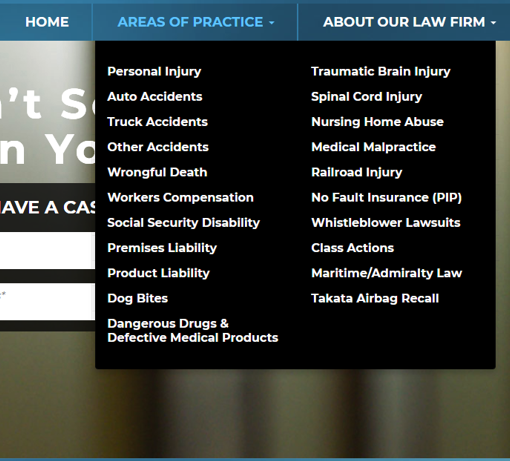 Here, Harrell & Harrell have their "Areas of Practice" visible and clearly stated. A drop-down menu quickly elaborates on their specific areas of practice.
Americans, generally, read from left to right. Having the most essential pages in your top navigation, and as far left as possible tends to increase click-rate.
There are also additional SEO benefits from consolidating your main navigation to only your "bread-and-butter" pages though Page-Rank, but that is a longer, separate conversation. Bruce Clay goes into details of Page-Rank here.
URL optimization
Utilizing keywords from your keyword research in your URLs (without stepping into keyword stuffing) can help both search engines and users determine what your web pages are about.
An example would be having a user search for an auto accident attorney and a page being served with a URL structure of:
www.example.com/auto-accident-attorney
The page contains the desired keywords and clearly shows the user that the page fits their needs.
Pro Tip: Be VERY cautious about changing your existing URL structure. If done incorrectly, significant amounts of traffic and SERP position losses can occur. If you are at all unsure about changing your URL's structure, seek professional assistance.
Blog content
A great way to drive highly targeted traffic to your website is to create high-quality content that answers your potential client's questions (think Research intent). One of the most popular options is to utilize a blog on your website, as Google rewards sites that are frequently updated with fresh, unique content.
Blogs create a way for you to engage with your customers in a way not possible through service pages. You can be funny, informational, and genuine while still serving your clients. It's important to note that your blog should remain on-topic with the field you work in and the services that you offer to clients.
This helps you establish yourself as an expert in your industry and build high levels of trust before you ever even talk to a potential client. Plus, creating a successful blog can drive incredible amounts of traffic to your site.
Page load speed
If your website doesn't load fast enough, you're likely to be losing a lot of your potential traffic. Google is starting to penalize websites that take an excessive amount of time to load (think back to user experience). It's important to check the speed of your website often – both on a desktop and mobile browser.
To do this, we recommend tools such as Google Page Speed Insights, GTMetrix, or Pingdom. These sites will even recommend actionable strategies to help you optimize your page's load times.
On-page Content
In addition to a blog, it's important to invest some real time and effort into developing the copy on your website's pages. Your landing page should clearly detail the types of services you provide to clients and why clients should choose you over your competition. If you offer free case evaluations, make sure you highlight that on the homepage.
Then, create short, high-quality biographies for the staff members at your practice to help clients familiarize themselves with your team and humanize your services. This can be a great place to abandon the corporate speak to display your unique personality or weave a compelling story in your About Us section.
Website optimization may seem best left to developers, and for some projects it is, but having a basic understanding is knowledge any business owner should have. You don't need a master's in information technology to know that a website that is easy to find, navigate, and digest leads to a satisfied consumer.
This concludes the second volume of How to Improve Your Law Firm's SEO. Join us next week for the final installment on Local Search Optimization & the Importance of Building Backlinks.