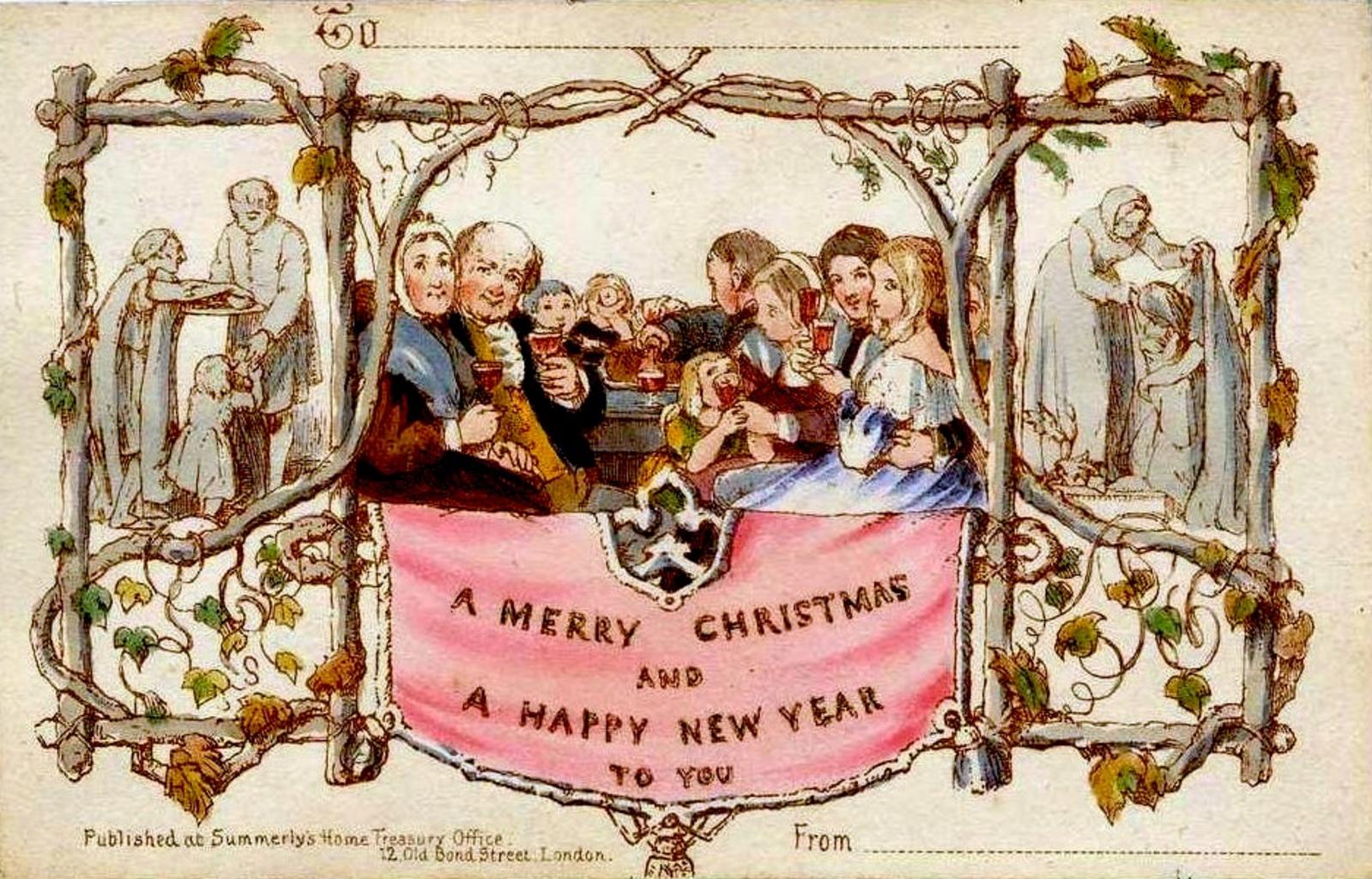 The history of holiday cards dates back to the ancient Chinese who would exchange messages of goodwill to celebrate the New Year. The Egyptians are known to have sent greetings on papyrus scrolls called "djema".
The popularity of cards in Europe began with selling and exchanging handmade greeting cards, notably Valentine's Day cards in the 1400s.
The first know mass-produced card was a Christmas card, printed and published in London by John Calcott Horsle in 1843. Horsle, who was commissioned by Sir Henry Cole, wanted a timesaving solution to answer holiday correspondence that was piling up. Cole printed a thousand copies and sold the extra at a shilling apiece.
The first Christmas cards were influenced by the already popular Valentine Day cards that featured 'paper lace' and layers that opened to reveal flowers, ladies, and religious symbols, including angels watching over sleeping children. The popularity of Christmas cards in the late 1800's was prompted by the new printing processes and techniques that combined color, metallic inks, fabric appliqué and die-cutting to make elaborately shaped cards.
Esther Howland was the first known publisher of handmade Valentine day cards in the U.S. So famous where her cards that she established a successful publishing firm specializing in elaborately decorated cards.
In 1873 the German-born printer Louis Prang who operated the L. Prang & Company began producing greeting cards for the English market where cards, particularly Christmas cards' were hugely popular. Prang began selling Christmas cards in America in 1874, and America's Christmas greeting card industry begins.
A small group of publishers in 1941, under the leadership of George Burkhardt of Burkhardt-Warner, established the Greeting Card Industry, the predecessor of today's Greeting Card Association. The National greeting card association recognizes Louis Prang as the father of the American Christmas Card.
Browse our Large Selection of Holiday Cards
Common questions business may have regarding Christmas and Holiday cards.
When Should You Order Christmas Cards?
The best time to order Christmas cards is typically 1-3 weeks before Thanksgiving Day. Ordering even earlier may allow you to receive heavily discounted prices. Ordering before Thanksgiving usually avoids potential delays in manufacturing custom cards and any shipping mishaps.
---
When Should you Send out Business Holiday Cards?
Most businesses send out holiday correspondence between Thanksgiving and New Year's; there is no hard-set rule but keep in mind the longer into the holiday season, the more likely you may experience delays in the mailing. If your business is sending Thanksgiving Day cards, schedule the mailing 7-10 days before the holiday..