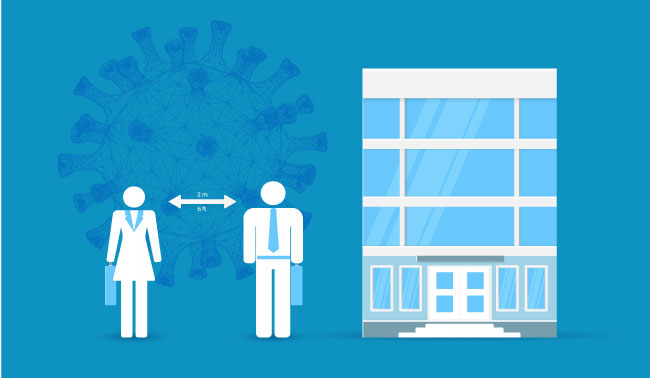 As of this writing, almost two-thirds of the Americans are working from home, a percentage that has doubled since March 2020. What will happen to those remote workers when the worst of the coronavirus emergency has passed?
Employers will likely have learned that some functions can be performed satisfactorily remotely, and some functions can't. This will likely result in some mandatory in-house or in-office work for some employees, who may resent giving up the flexibility of working from home. On the other hand, employees may appreciate the set office hours and the lifting of employers' expectations that employees are reachable at all hours, not just at the office.
Regardless of the nature of your work, chances are that the pandemic and resulting stay-at-home orders have changed workplace expectations of most employers and employees. Here are three considerations regarding the post-COVID-19 work culture.
1. Office Space and Behavior Must Change to Include Precautions
Medica experts expect the coronavirus to be around, much like the common cold or seasonal flu, unless and until a vaccine is created, and that there is a 75% chance of a second wave of the pandemic occurring in the autumn, as people return indoors having eased social distancing protocols over the summer.
Considering that the mortality rate hovers between three and four percent for those contracting COVID-19 vs 0.1 percent for the seasonal flu, precautions must be taken to avoid transmission and a spike in new infection as social distancing is eased and people return to the workplace.
What will those precautions look like? Right now, medical professionals believe the coronavirus is spread by airborne droplets from an unguarded cough or sneeze, and that those droplets can carry the virus to other people or to surfaces that other people touch and then touch their faces.
Hopefully, we will learn more about how the coronavirus is transmitted, but for now, the following precautions are likely:
Maintaining a 6 ft distance between workers when possible
Use of individual offices rather than a shared workspace or cubicles
Wearing a mask and gloves and perhaps other PPE when at work
Daily disinfection of surfaces in the workplace
Temperature check at the entrance, to catch those with fever prior to entering
Periodic COVID-19 testing for employees
A moratorium on handshakes
Eschewing conferences and face-to-face meetings in favor of videoconferencing
Cycling of workers coming in on alternate days or establishing staggered shifts, to reduce the number of workers at the workplace at any one time
Regardless of the precautions taken to avoid the spread of the coronavirus, businesses must be poised to respond to signs that infection is spreading in the workplace and be prepared to roll back the return to work if necessary.
2. For Some People, Work From Home is Here to Stay
When the work of the firm can be done remotely, at least part of the time, employers will likely want their workers to work from home. Why? The upside of working from home for employers includes:
Email or Skype access to workers throughout the day
A reduction in overhead from office costs, or the ability to lease a smaller office or other workspaces
Increased employee satisfaction due to the flexibility of working remotely
It is likely that employees will appreciate the ability to work from home at least part-time if employers allow it. The upside of working from home for employees includes:
No commuting cost
No time wasted commuting, so can work more
Can be present for children home from school or sick family members
3. What if Working From Home is Not Available or the Employer Does Not Want to Offer it?
Unfortunately, many businesses require the collaborative atmosphere of an open office environment to succeed. Others require that their workers be in the physical space together to manufacturer or move product, or to exercise their trade or craft. Remote work is not a realistic possibility for these workers and those employers will likely not offer it.
Additionally, most low-skill workers, such as grocery store clerks or warehouse workers, cannot perform their work from home. Ironically, these workers have been deemed "essential" and therefore continue to report work despite the current danger of coronavirus infection. This will not change as social distancing is eased.
Where the work of the firm can readily be done remotely, say, for service-oriented businesses such as law firms or accountants, remote work may continue to be offered at least part-time after social distancing is eased. However, that will be entirely up to individual employers who, having likely offered the option of working from home during the stay-at-home order, want to rescind that and have employees come in.
Reasons, why an employer might cease offering employees the option of working remotely, could include any of the following if any were the employers' experience during the imposition of the stay-at-home order:
A frustration of the ability to provide immediate feedback or direction to employees
A perception that some employees lack the ability to focus subject to the distractions of home
A perception that some employees lack the discipline to get the work done at home
A perception that colleagues cannot easily collaborate when working remotely
Conclusion
When the worst of the pandemic has passed, employers will face the challenge of balancing worker safety with the need to do the work of the firm on-site. Regardless of what individual businesses decide to do once the stay-at-home orders are lifted, it is a sure bet that working from home will be more prevalent than before the onset of the COVID-19 health crisis.