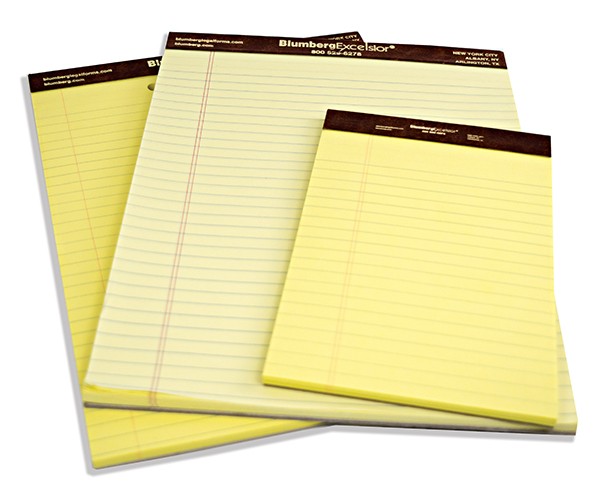 We call them "legal pads" because when they were first available in 1888 (the year after Bob Blumberg's grandfather founded our company) a paper mill worker collected the sortings (scraps) from various factories and bound them into pads. They were cut to legal size. Later, when the pad paper was manufactured with ground wood and scraps to make up the batch of pulp, they were colored yellow because it was more expensive to make the batch white.
At that time lawyers were the primary users of legal size paper. The legal pad became a bedrock tool of legal practice. Because legal notes must be retained for many years, lawyers prefer better quality paper. The better paper also enables users to write with a wider variety of instruments: pencil, fountain pens, ball point and felt tip markers.
Today, legal pads are everywhere and in many sizes and colors. The lines can be narrow or wide apart and they are available 8 ½" x 11" and 5" x 8" as well as the traditional legal size. Some come with ¾" taped padded top tabs and perforated paper to make tearing easier. In addition to the traditional 1¼" vertical red rule, pads are available with 2, 3 and 5-hole punching, vertical litigation rule down the center and line numbering.
Most of the legal pad paper manufactured today is made with cheap ground wood pulp so that they can be very competitively priced. These pads may not perform well with the variety of writing instruments currently available.
Firms often distribute legal pads at meetings with clients and others and they do not want to distribute cheap pads. In fact, pads are often personalized with a firm's logo to make a good impression on the participants at the meetings who leave with them.
BlumbergExcelsior offers only the best quality Bay Pads made by the Blind Industries. The Bay Pads are bound with extra thick binder board (80-point). The pad stock is 50% recycled, 30% post-consumer waste, ground wood free with a 92 brightness. They cost substantially more to manufacture than commodity pads. A wide variety of writing instruments can be used without blotting and excess absorption. Blumberg also offers personalization with a choice of 3 foil colors and 5 tape colors, litigation ruling and numbering and three sizes with or without punching.